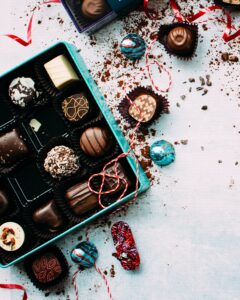 The holidays are officially upon us and at this time of year I am always at a bit of a loss as to what to write. No one really wants to be told what they are doing wrong this time of year and no one is really interested in making a big lifestyle or nutrition change. We all have too many things going on now that making another change (or reading another article about what you shouldn't be eating at that holiday party) just isn't a priority. So, what is a nutritionist to write about over the holiday season? Another "holiday survival" tip? Maybe some healthy appetizer ideas for Christmas parties? Nothing seemed right.
I was discussing my dilemma over lunch with my Dad the other day and he said something so perfect that I thought – that's it! That's what my December article should be about! So what perfect nutritional advice did dear old Dad have to share?
"It's not what you eat between Christmas and New Years that matters, it what you eat between New Years and Christmas." 
Leave it to Dad. It's not that I haven't heard the expression before, I'm sure I have even said it before, but it came at just the right time. Why stress out over a couple of weeks when we have fifty other weeks to make a difference with!
The holidays should be a time to enjoy, not dread! They only come once a year and before you know it they're gone. We get so filled with anxiety at the prospect of the family gatherings or the company holiday party with all of the temptations lying in wait for us. We worry about our waistlines and lack of gym time, we stress out that we "overdid it" and then worry about working it off for the rest of the week. That's no way to enjoy the holidays!
If you're doing your best all year round, enjoy a holiday cookie, enjoy a cocktail or two, just don't indulge like that all year round! It's really pretty simple when you think of it. Two weeks out of the year isn't going to make it or break it. I've always been a big believer that stress is one of the worst things we can do to our body – if you stress about every little thing that you do "wrong" over the holiday season you will miss the enjoyment of the holidays altogether! If you want to indulge a little, go for it, but do it without the guilt!
Now, before you head out to the next party and eat everything in sight, remember, you're relaxing a little, not storing for hibernation! A few parties and treats won't ruin a season but try not to treat the holiday season like a two week "all you can eat" buffet!
So for the two weeks at Christmas, relax just a little, enjoy the good times and good food with your friends and family. Unwind, de-stress and really enjoy everything the holidays have to offer. (Thanks Dad!).
By Brandi McCarthy, RHN