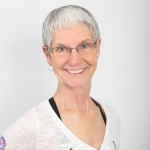 Nancy Barrett
After retiring from a career in education Nancy found a new path for life by becoming a Certified Yoga Instructor in 2013 and in 2014 a Certified Personal Trainer. She is also an Older Adult Fitness Specialist.
Nancy understands how important keeping active is to our general health as well as our physical and emotional well being no matter our age. She enjoys the teaching aspect of Personal Training and Yoga. She focuses on proper form, educating clients in the function of exercise, understanding their own bodies and helping them recognize the mind/body connection. She enjoys working with older clients to help them maintain a healthy body.
Nancy believes that wellness is a combination of exercise, good nutrition and loving life. A quote she recently saw sums up her philosophy:
"We exercise for the quality of life it gives us."
Go back to team page.