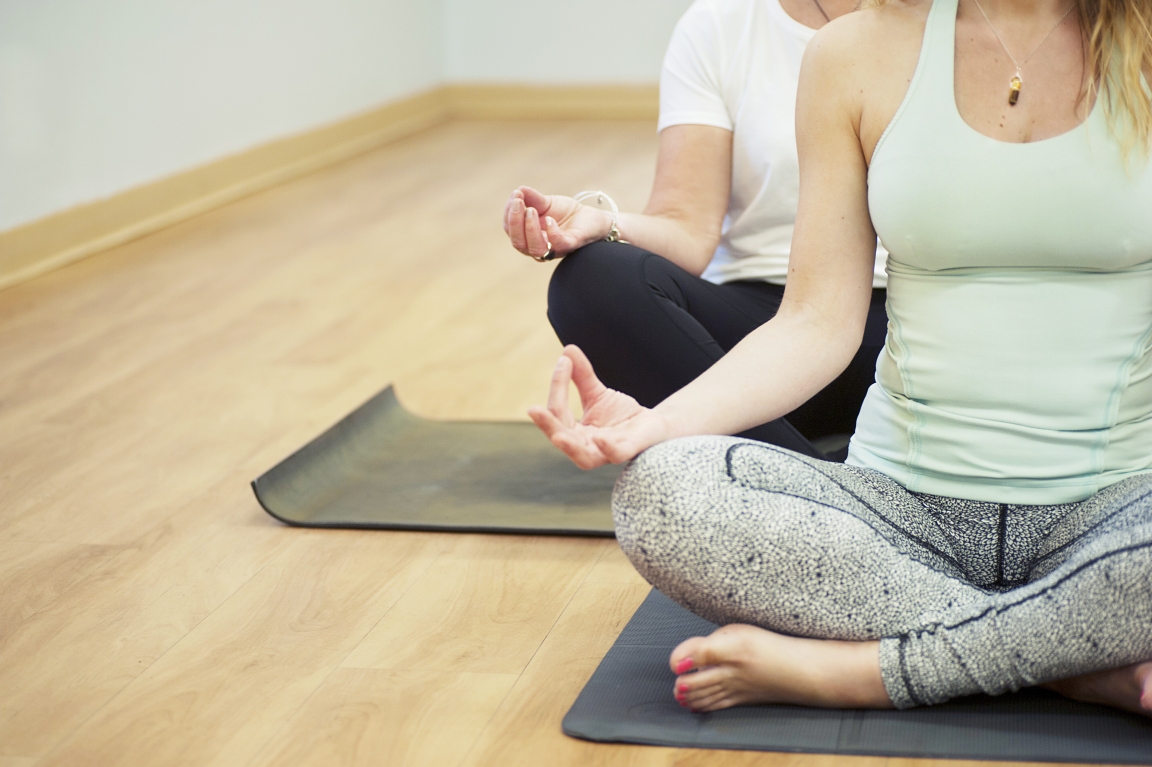 Body Design offers a wide selection of yoga and fitness classes where participants can join a group of like-minded health and fitness enthusiasts. For a complete list of current classes, check out our Class Schedules. You can now register online!
Yoga Classes
Participants are required to bring a yoga mat and wear comfortable clothing.
Beginner Yoga
Move, breath, stretch, release and restore as you learn yoga poses and asana. Connect to the mind, body and spirit during this slower paced practice. Learn, grow and challenge yourself in an encouraging environment. All levels and abilities welcome. Register
Strengthen & Relax (formerly Awakening Yoga)
This class is a small step up from our Essential Yoga class. Starting always with a lengthy warm up and then on to flowing standing sequences. Occasional holds of poses like Warrior, Plank, and Balances found throughout to enrich strength and build intensity. Designed to elevate the heart rate and then guide it back down to a deeply peaceful state. Positive affirmations included to bring moments of mindfulness. Register
Feel Good Flow (formerly Ahimsa Yoga Flow)
End your day with a sense of serenity as Catherine guides you through a flow that will lead you into a calm and relaxed state of mind. The class will have a combination of both mobility and strength. Movements will focus on a different area of the body from week to week, targeting areas that may be a little stiff or sore. We welcome students to listen to their bodies and modify poses accordingly. Allow yourself to listen to what it is your body needs in a space free of worry. Register
Essential Yoga
Mind, body, and spirit unite in this gentle class lovely for beginners and seasoned yogis alike. The class is largely reclined and seated postures with a short standing section. In each class, students will learn a few new poses so it always feels fresh and we will revisit familiar poses to recognize growth and build confidence. Designed to develop healthy, resilient muscles, skeletal alignment and joint stability. Register
Yoga Stretch
Yoga stretches are one of the best ways to begin restoring your body to better health, by improving balance, flexibility and circulation. In this class we will explore a series of gentle, low impact stretches and poses that will help loosen tense muscles, deepen your breathing and relax your mind. These stretches and postures are easy for anyone to do, because you can tailor them to meet your own body's needs with simple modifications. Register
Intermediate Yoga Stretch
We take learnings from the Yoga Stretch class and take them to the next level!
We also offer Private and Semi-Private, In-Home Yoga Sessions – $75.00 + HST/hr.
Fitness Classes
Learn to Run
A running program designed to get participants not only to the start line, but surpass their best at the Mount Albert Sports Day 5km Run. We welcome beginners learning to finish a 5km and runners who are looking to better their 5km time. Dust off your running shoes and join us having fun running the streets of Mount Albert! Register
Intermediate/Advanced Running Clinic
The program is designed for those wishing to improve on the 5km distance. Whether you have just completed a learn to run program, or have been dabbling in running for a little while. Master the basics of running while building strength and endurance to make running over 5km FUN and meet your fitness goals.  Your goal race will be the Mt. Albert Sports Day 5km Run. Register
Balance & Posture
Are you afraid of falling? Do you have lower back pain?
In this class we will work on improving posture and balance through a variety of exercises, poses and movements. You will gain an understanding of what muscles are involved in maintaining balance and good posture and how to stretch and strengthen these muscles. Improved balance and posture can help you move more safely though your day and help relieve those nagging neck, back and shoulder aches and pains. This class is suitable for all ages and levels of ability. Please bring a yoga mat to class. Register