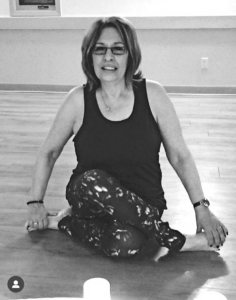 Please join community, friends and loved ones for Yoga in Memory of Lea LeLacheur. Lea was passionate about sharing the benefits and her love of Yoga with her students.
Lea was also a long time loyal and valued team member at Body Design. In honour of her contributions to Body Design and our community, I would like to celebrate and remember Lea with a special fundraising Yoga class in her memory.
Yoga in Memory of Lea LeLacheur
Thursday, November 4
(This is an online class so we can accommodate
as many participants as possible for the fundraising event)
6:30 p.m. to 8:00 p.m.
Fee: Registration is $25.00 however upon registration, no fee will be charged. We will send you a link for a Canada Helps page that we have created to direct funds to Lea's favourite charity (OVC Pet Trust, Ontario Veterinary College, University of Guelph). Please use the link to donate a minimum of $25.00 or whatever amount you prefer. All donations will receive a tax receipt.
The fundraising event will begin with tributes to Lea from family and myself. If anyone else would like to share memories about Lea, your comments will be welcomed.
Following the tributes, Nancy Barratt will lead a one-hour, gentle Yoga class which will incorporate some of Lea's favourite Yoga poses.
All are welcome (no Yoga experience required). Please bring your energy and love as we remember Lea and her joyful spirit.
Registration deadline November 2nd.