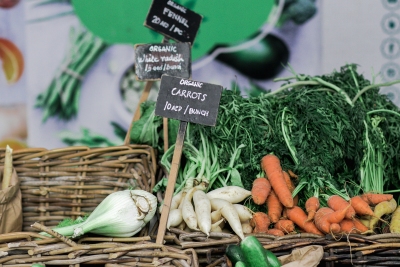 Do you eat organic?  Have you found yourself standing in the organic section asking yourself if it's really worth it? You are not the only one. Once only seen in health food stores, organic products are now found in almost all conventional grocery stores. From fruits and veggies, meats and dairy, to crackers, cereals and sauces, there are tons of products on the market that are now being sold as organic.
But what does this term actually mean? According to The Department for Agriculture and Rural Affairs, organic refers to the way agricultural products are grown and processed, using environmentally and animal friendly farming methods, avoiding the use of man-made fertilizers, pesticides; growth regulators and livestock feed additives.
One question I am often asked by my clients, is whether organic food is really better for you? As a nutritionist, I strive to make the best possible choices about the things I put into my body including products that are free of chemicals and additives, and I encourage you to do the same. Here are a few things to consider before heading to the grocery store.
Pros of Eating Organic

They are free of harmful pesticides, antibiotics, genetically modified organisms, and additives that are harmful to the body
They have less impact on the environment by reducing pollution and reducing carbon footprints
They are said to be high in nutrients including antioxidants, vitamins and minerals that can protect you from illness and disease
Fruits and vegetables taste better and have more flavour
Buying organic can make you feel better about yourself and what you are eating

Cons of Eating Organic

They tend to be more expensive because of the lower yields and high cost of organic certification
They have a shorter shelf life because they are not treated with preservatives
Some foods are hard to find because they cannot be farmed in certain regions
The term "organic" can be confusing and misleading
Produce is often not all uniform in shape and therefore does not look as appealing
Once you understand the meaning of the term, you are more likely to make an informed decision and feel good about it. However, it can be difficult to eat organic all the time, so instead, try eating locally and seasonally. This will help introduce a variety of foods into your diet, will be easier on the wallet, and you will be confident knowing that it has not been picked far from your home. Summer is a wonderful time to head out your local farmer's market for fresh tasting food that will cut down on your carbon footprint, and help support your community. Or, you could try starting a small garden of your own, with easy to grow vegetables like peppers, lettuce, tomatoes, and beans.
When it comes down to it, you need to feel good about the choices you make for your body, organic or not.
By Michelle Stone, RHN. Body Design offers Personal Training, Nutrition and Yoga classes to assist individuals achieve their health and weight loss goals. You can reach Michelle at info@newstartnutrition.ca  or contact www.BodyDesign.ca