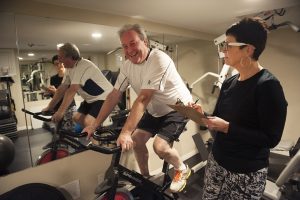 A Personal Training Experience That Meets You Where You Are
You don't have to give up the activities you love simply because you're growing older.
In fact, studies show your strongest years may still be ahead of you. Yes, you read that correctly.
Whether your goal is to join the curling team, to run a 5 or 10k, or simply to have the energy to keep up with your grandchildren, it's never too late to invest in your health.
You may not be able to stop the clock, but you can ensure that as time ticks on, you're continuing to make your wellness a priority so you can open the doors to a world of potential you never before believed possible.
Every BODY is Different – And So Is The Body Design Approach
 You may be leery about exercise because you don't know what works, or you may choose the comfort of unhealthy food because it's easier than trying to understand "eating healthy".
This doesn't mean it's impossible to make a change; it just means you haven't found the program that's right for YOU.
 At Body Design, we are committed to helping you reach your wellness goals, whatever they may be. We offer a personalized, holistic approach to fitness training and nutritional counseling in a private, one-on-one studio setting or online via secure a video conferencing platform.
Our healthy lifestyle coaching is designed to help you:
Establish realistic goals.
Develop new, sustainable habits and routines that can be maintained long-term.
See the individualized results you've been longing for.
It really can be that simple. You just have to make the decision to start…
Getting in the Best Shape Of Your Life
 The best part of the work we do is watching incredible transformations happen right before our eyes. And we're not talking about before and after photos. This change looks different for every person who walks through our doors, but the magical results remain the same.
You will walk away from our program with a newfound confidence in your ability to maintain your healthy lifestyle habits and change your life. Here's what you can expect when working with us:
Our Certified Personal Trainer will meet with you to discuss your goals and create a customized and realistic fitness plan based on your objectives and concerns.
After setting up your food log, you'll work with your trainer to review your eating patterns and we'll offer recommendations for practical and effective changes that will be easy to achieve.
We'll regularly monitor your progress to ensure you reach your targets, whether they are in regards to improving your fitness, nutrition, strength, confidence, stress levels, or other health issues you wish to better manage.
You'll complete our program feeling confident and empowered in your knowledge and ability to make healthy fitness and food choices.