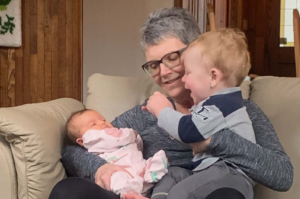 You look after a 2 year old and let me tell you, you're going to get humbled.
If you're a grandparent it's easy to see why staying active helps you go through your day with more joy and happiness. Life's simplest pleasures are enhanced when you're fit.
Remember when we were kids and "children were to be seen and not heard"? Times have changed, and for the better. Today, grandchildren are often at the centre of family gatherings. That means getting down on the floor, playing with them on their level, connecting, cuddling, cozying… and then getting back up again!
Even when  I think about how my parents interacted with our kids, yes they babysat, regularly enjoyed watching their hockey and soccer games, and they were genuinely involved in the kids' lives, but I don't remembering them actively "playing" with them when the kids were young.
I want to be an active Nana. I want us to play tag, hide and seek, ride bikes, play dress up, and make messes in the kitchen. Their squeals of laughter and the joy on their faces when they discover something new are moments I can't wait to share up close. And as they grow I want to keep pace as best as I can when they take up skiing or go tubing behind a boat or any other crazy activities they get up to.
These experiences are all within our reach if we make regular activity and good nutrition part of who we are. Let's be honest. Playing is hard work at our age. It's more important than ever to maintain our physical strength, flexibility, and a healthy cardiovascular system.
We're lucky to be living in a time when grandparents don't need to watch idly from the sidelines. And when we do roll up our sleeves and dig into the fun, we're creating memories for them and for us that are vibrant and everlasting.
So, I'm choosing a life that includes weights, walking, stretching, and healthy food choices so I can be the active Nana I know I can be.
How about you? Maybe you're an active grandparent or aunt or uncle and need a little guidance to kick start things. I'm here to help.